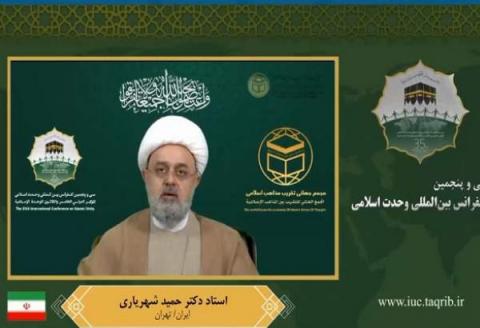 The world today sees unity as a sacred goal as well as a serious necessity for overcoming great challenges. That is why the world is moving towards building coalitions and signing regional and international treaties.
Ayatollah Nasser Makarem Shirazi, Iranian senior jurisprudent has issued a message addressing the 35th International Islamic Unity Conference to call unity as a "sacred goal" and a "serious necessity" in today's world which has been defined as a definite need for good life in Islam, reported Taqrib News Agency (TNA).
The cleric, in his message read out by Hujjat-ul-Islam Hamid Shahriari the Secretary General of World Forum for Proximity of Islamic Schools of Thought, called "Islamic unity" one of the indisputable social principles in Islam and quoted holy Qur'an putting emphasis on need to protect and preserve solidarity in Islamic nation.
The fact is that the colonialists and Takfiri movements, without a signed document, have agreed to cooperate with each other in endangering the existence of the Islamic Ummah and turning the merciful face of Islam into a violent and frightening figure.
"Human societies are affected by two factors in terms of their solidarity; internal attraction and external need" noted the top cleric in his message and added "faith" as a third element added by Islam in order to achieve the highest and utmost level of unity.
He quoted several verses from holy Qur'an emphasizing the necessity of achieving unity in the ranks of the Islamic Ummah.
Ayatollah Makarem Shirazi expressed regret over the current process of division and creation of fear of Shias and Sunnis which have turned into a weapon of mass destruction inflicting the most severe blows on the body of Islamic Ummah.
He counted Takfiri (excommunication) movements for a "damaging and destructive phenomenon" that has emerged targeting the "Unity of Word" among Muslims.
Top Shia jurisprudent denounced Takfiri movements for efforts to ignite the fire of sedition and create division among the progenies of the Unified Ummah.
The strategy of the Islamic Ummah at this difficult stage should be to emphasize commonalities and avoid differences.
Ayatollah Makarem Shirazi noted that the Islamic Ummah has no choice but to rely on the "Unity of Word" to confront the activities of the poisonous and destructive media against itself.
He expressed hope that the International Islamic Unity Conference will be successful in achieving this sublime goal and that the intellectuals participating in this conference will be able to reach appropriate solutions through thinking together.
The message by Ayatollah Nasser Makarem Shirazi addressed the participants to the 35th International Islamic Unity Conference which is under way on October 19-24 on the theme of "Islamic Unity, Peace and Avoidance of Division and Conflict in the World of Islam."