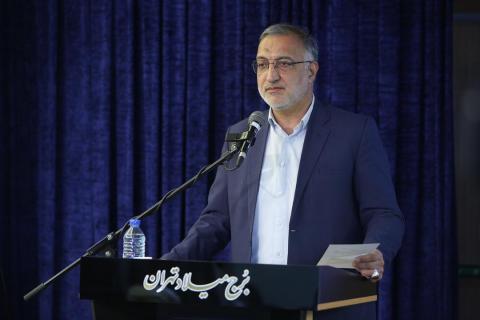 Mayor of Tehran slammed enemies of Islam spare no effort to harass the world of Islam with civil war and establishment of fake sects.
Alireza Zakani, mayor of Tehran, in his speech addressing a number of foreign guests to the 35th International Islamic Unity Conference hailed the perfect Islamic civilization in past centuries and said enemies would do anything to distance Muslims from scientific achievements by any means possible, reported Taqrib News Agency (TNA).
He said, "Non-Muslims would achieve the latest scientific advancements from Muslims, a victory much abhorred by enemies; therefore, they would do anything to involve Muslims in civil war and creating fake faiths and distance Muslims from the path of science."
He vowed that Islamic Ummah will not permit the hostile plots to be realized and said," Our intellectuals are fully aware of this and will not permit the hostile plots by arrogant powers to materialize."
Mayor of Tehran noted that Muslim elites have risen against hostile plots in resistance front lauding the Shia and Sunni martyrs who sacrificed their lives in this path.
Alireza Zakani referred to Iran's assassinated commander of Quds Forces, Lieutenant General Qassem Soleimani to Lebanese and Palestinian martyrs and called them "martyrs of unity."
Iranian official said 11,000 martyrs during the Islamic Revolution were from the Sunni community.
He said that the current confrontation is between the determination for unity and the determination for division and stressed," The world of Islam can underline commonalities and several talents and also activating their potentialities as well as making use of the scholars and elites besides the God given gifts is taking step towards the pinnacles of spirituality and will illustrate the new Islamic civilization."
He stressed that Islamic unity is achievable counting to visa facilitation agreement; establishing currency Islamic union and exchange of trade experiences are among the steps to be taken to improve the level of cooperation in the world of Islam.
Alireza Zakani announced Tehran's preparation for improving the cooperation and strengthening cultural and social relations among Islamic cities.
A group of Muslim elites and religious leaders are visiting the Iranian capital Tehran to attend the 35th International Islamic Unity Conference.
The 35th edition of Islamic Unity Conference is underway in the capital Tehran on October 19-24 mainly in virtual meetings of Muslim scholars, intellectuals and thinkers from across the globe. The theme for Islamic Unity Conference 2021 is "Islamic Unity, Peace and Avoidance of Division and Conflict in the World of Islam."